Our diary is here to advertise as many events as we can so if you would like us to promote your event, fill in our contact form. If you're a pub or other venue then why not keep us up to date so we can add you to our gig guide? Once you've been in touch we'll send you an email address so you can send us your listings.
Please check with the venue that the event is still on. We can't be held responsible for errors on these listings.
Daily update email
You know how it is, you forget to glance at the site and you miss out on ticket sales for that great band at The Anchor! Subscribe to our daily update and we'll drop you a discrete email to let you know what new items have been added to the diary in the past 24 hours. You can unsubscribe when you want and we promise to do nothing else with your email address.
Jul
17
Sat
Cowes Classics Week

@ Royal London Yacht Club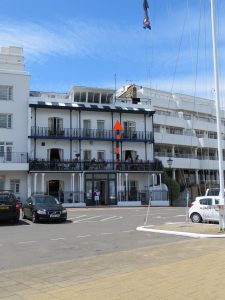 Cowes Classics Week is all about racing traditional yachts on the water and enjoying fabulous social events ashore.  Metre boats, Classic Racing Dayboats, Classic Yachts, Old Gaffers and Spirit of Tradition Yachts are all welcome to sail varied courses set in the Solent with free high teas, great value parties and suppers at different club venues. There are daily prize giving events, all with free tea and cake plus a gala awards ceremony to celebrate the sailing.
Jul
31
Sat

The regatta has evolved enormously since 1826, and now between 800 and 1,000 boats in up to forty different handicap, one-design and multihull classes race every day for eight days. It is this complete mixture of classic and ultra-modern designs that gives the regatta its uniqueness. Several classes that raced more than 50 years ago are still racing today; Dragons, Flying Fifteens, Redwings, Sea View Mermaids, Solent Sunbeams, Swallows, Victories and X-one-designs. New classes are also introduced as they increase in popularity.
Around 8,000 competitors now participate, ranging from Olympic and world class yachtsmen to weekend sailors. The spectacle that the racing provides, together with the vibrant festival atmosphere attracts over 100,000 visitors to Cowes during the event.
For more information: http://www.cowesweek.co.uk