Our diary is here to advertise as many events as we can so if you would like us to promote your event, fill in our contact form. If you're a pub or other venue then why not keep us up to date so we can add you to our gig guide? Once you've been in touch we'll send you an email address so you can send us your listings.
Please check with the venue that the event is still on. We can't be held responsible for errors on these listings.
Daily update email
You know how it is, you forget to glance at the site and you miss out on ticket sales for that great band at The Anchor! Subscribe to our daily update and we'll drop you a discrete email to let you know what new items have been added to the diary in the past 24 hours. You can unsubscribe when you want and we promise to do nothing else with your email address.
Jun
3
Sat
Defence Lab – 4Weeks Ladies Self Defence Course

@ Northwood Village Hall
Jun 3 @ 18:40 – 19:40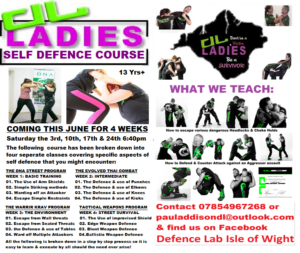 Ladies Self Defence Course
4-week self-defence course coming up in June that is tailored for ladies aged 13 yrs plus.
The course will be held at the Northwood Village Hall.
The cost will be £20.00 for the full course (£5.00 per session)
1 hour of instruction using selected techniques – The DNA Street, Evolved Thai Combat, Warrior Krav and Tactical Weapons Program (a different one each week). This course is open to all Ladies of all levels (Beginners/Experienced) from 13 years+
All programs are broken down to step-by-step process so it's easy to learn and execute by all should the need ever arise.
All equipment will be provided, all you need to bring is comfortable clothing, shoes and a bottle of water to keep you hydrated.
For more information, contact Paul.
Sonic Kings

@ The Globe
Jun 3 @ 19:00 – 21:00